Quick Design Lesson From Tomb Raider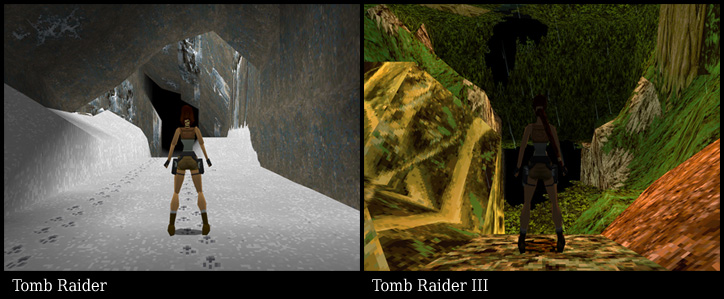 While taking screenshots of Playstation games for my emulator front end, I noticed something interesting in the Tomb Raider series. Shown here is a side by side comparison of the first moment of gameplay from Tomb Raider and Tomb Raider III. Both games use the same engine and have virtually identical graphical capability, yet TR1 looks much better.

TR1 works within the limitations of the hardware and software. They chose a cave environment, which works well with the block-and-wedge level format. Most of the textures are simple and uniform so repeating patterns are less noticable. The textures that are used for detail - such as the wolf tracks - are purposeful and compliment the scene. The character contrasts well with the background and creates a pleasing image over all.

TR3 chose a jungle environment - I guess. I can't really tell what I'm looking at. It tries to put too much information into too little texture space. There are piles of leaves, branches, ferns, rocks, god knows what. It is polygon and pixel barf. The character is back lit, making her almost the same brightness level as the background. The combined effect is that the character all but disappears into the screen.

It's easy to forget that TR1 was revolutionary when it came out, but when you play it today it still has a unique feel to it due to it's solid graphical design.

Comments