Counter-Strike: CS_MotorCity
This is the first complete map I made for Counter-Strike. It features several kinds of driveable vehicles. The map is supposed to be about driving so weapon buying is not allowed. I hosted a server running this map for a while and great fun was had by all who joined. This is an excellent map.

Download CS_MotorCity
Features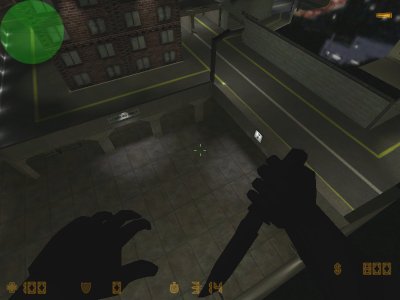 Here's an aerial view. On the right ledge there's a quarter pipe ramp. You can actually do a complete flip in the Counter-Terrorist cars by driving off of it at full speed. Don't do it with your teammates in the car, though. There's a 50% chance that you'll land upside down and everyone will be crushed. There's a further 10% chance you will fall out and splatter on the ground. Plus a 5% chance that you will mysteriously die in mid air. Plus you if you hit one of the buildings you and your vehicle may get stuck high above the ground. Come to think of it, you might not want to do this at all if you like living.
One cool tactic I discovered is to drive full speed at the ramp and jump out of your car just before you hit. I've actually managed to have the empty car hit the terrorist truck and kill everyone inside. You don't get any credit for the kills, but it is hilarious.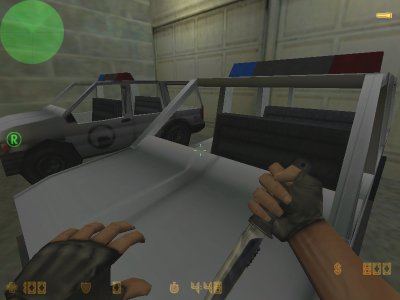 Here we have the Counter-Terrorist's SUVs. Yes they're huge, but it was necessary to give all the passengers enough room. Five passengers can fit in each one with no problems as long as they stay on their side of the seat and don't crowd each other. Especially the driver. If you crowd the driver, you tend to spontaneously die.
Serves you right.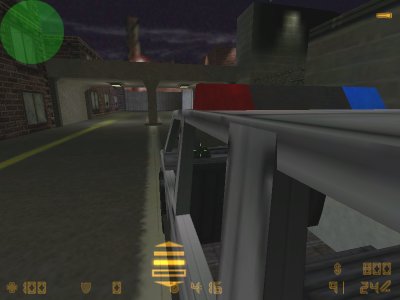 Cruising along... You can actually drive off that overpass and crush people below. I've done it.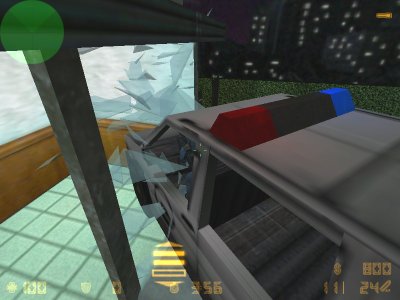 Smash! Breaking into the the convenience store for a late night HE grenade. You can only break the glass if you're in a vehicle. Cool huh?
It works via an area trigger thats above normal jumping height, but just barely touches your head if you're in the car. Near the bottom of the map there's a brick wall that you can only break through if you're driving one of the terrorist's trucks.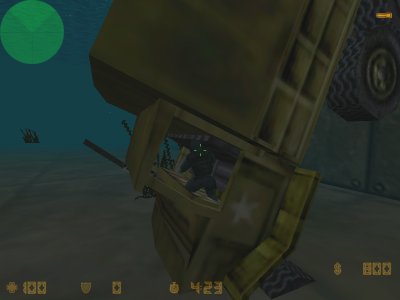 There's a bit of water in the map. Here we see one of the terrorist trucks in it. Luckily there's a ramp to let you drive out.
One fun thing to do is if there's an enemy (or a teammate?) in the back of the truck, you can drive into the water backwards and trap them until they drown.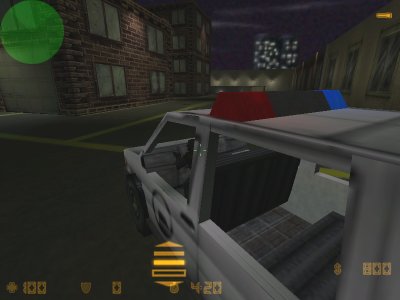 Driving around. Yes, the cars are huge. It has to be that way. Trust me.
You can open that garage door and retrieve a hidden machine pistol. There is no weapon buying on this map and only shotguns are provided, so the machine pistol is a big advantage. Getting it requires teamwork though.
Comments