Top 5 Terrifyingly Fast Robots
5. Micromouse NTF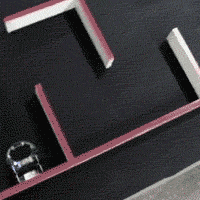 Micromouse is an international robotics competition where entrants are tasked with autonomously solving a 16x16 maze. Pictured here is a bot navigating the maze after it has already determined the shortest route.
Made by a japanese guy who may or may not also be a robot.
Video
(worth viewing for the reaction noise alone)
4. Adept Cobra SCARA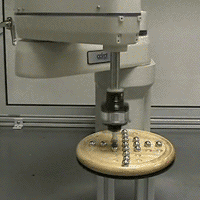 3. Shinkawa UTC-3000 Wire Bonder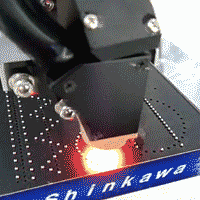 Not to be out done in the ball-moving department, Shinkawa has repurposed one of their
wire bonding
machines for this demo.
Normally this machine is used to attach the chip leads to the actual die inside of an IC package.
This seems to be the fastest robot on the list but it is quite small, the working area is maybe 6 inches across. That cuts down on the terror.
Video
2. ABB FlexPicker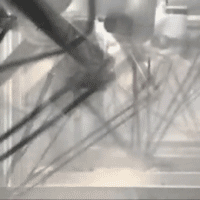 The
delta
configuration of the FlexPicker gives it very fast x/y/z movement with only 3 actuators. Ideal for picking stuff up and looking like a creepy spider. They're made as drop in replacements for human workers, which is why sometimes they look like they're wasting time or outright
destroying merchandise
.
Note that they are placed inside of a special cage because if you were to enter the operational area you would be killed.
Video
1. Fuji CP-643 Chip Shooter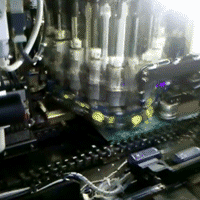 Why
pick-and-place
your surface-mount devices when you can load them up into an SMD gatling gun?
Q: How many cph (components per hour)?
A: 40,000 CPH
Q: Does that mean it can place a component in < 0.1 seconds?
A: Yes
Video
Did you watch the video? Ok, now go back and watch it again, because you missed the part where the board moved ~1.5 feet in less than 1/30th of a second at
0:19
.
Bow before your robot overlords.
Comments